I joined facebook almost 3 years ago. I wasn't very excited about it-it seemed so foreign. Now, I find myself checking it and responding, multiple times a day. I think it is a great tool-especially for keeping in touch with friends and family who are far away or even close by. It gives me a little glimpse into many lives, at once and is a fabulous, quick way to contact people.
It is kind of like going to a party, where many people you know and love are there. People from all different times of your life. You may have the highschool crowd, the college crowd, the group of people you knew and loved when you first started your family, etc. You get to move around and mingle with them as you please and you meet new people as you go. Sometimes you play catch up, other times, you may fight over politics or religion. There may be times when you celebrate together, inspire each other or just make each other laugh.
But even every party gets tiring and you are ready by the night's end to go home and just have quiet! For me, I find myself needing this sort of break from facebook. Time to just step away from all the conversation and just enjoy some quiet. I have the type of personality where I get too involved. In real life, I'm the party go-er that sits in the corner and worries about what everyone else is thinking. I'm scared to say much because I'm afraid I'll say the wrong thing. In many ways, I am the same with facebook. I worry far too much about what others will think, I get too involved in the conversations and it can create some anxiety. It seems crazy to me that something that should be about fun and friendship can change so quick in the presence of my own insecurity.
So, for the time being, I am going home from the party. I will probably return, but not until I am able to better deal with the anxiety it can create! Anyone who knows me personally and wants to stay in contact, please email me. It won't be quite as convenient, but it will work! As for blogging, this will be my outlet to continue to record the daily things. Feel free to stop by daily to hear how I'm doing and see what goodies I have to hand out!
For tonight, I have a photo cluster. It can be added to any background to create lots of different looks! Here are a few examples:
by Amy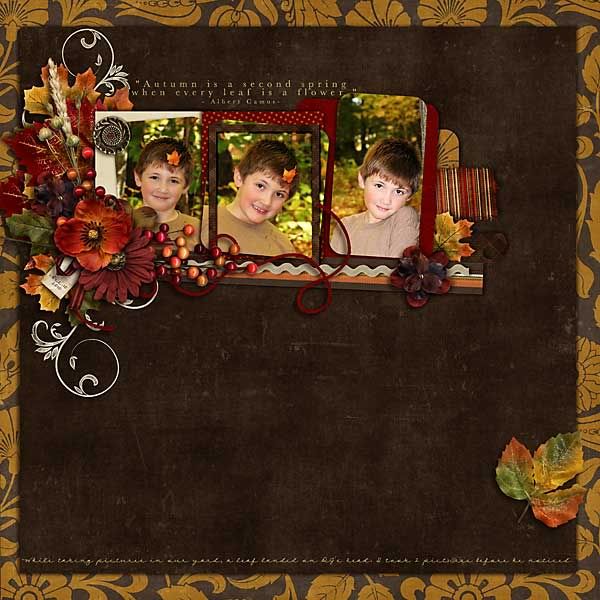 A Siggy by Crystal
By me:
So many fun uses for it!
link expired