Welcome to Wednesday! You know that means that there is a lot to talk about, lol.
First up I want to give you a sneak peek at all the fun stuff Ramona has coming out this week. At Brownie Scraps, Ramona has a cute CU product, but honestly this style is so in right now, everyone could use it :) Because, really, how fun to make your own papers, right!!
Ramona has a few new things releasing on Friday at ScrapMatters, here's a peek: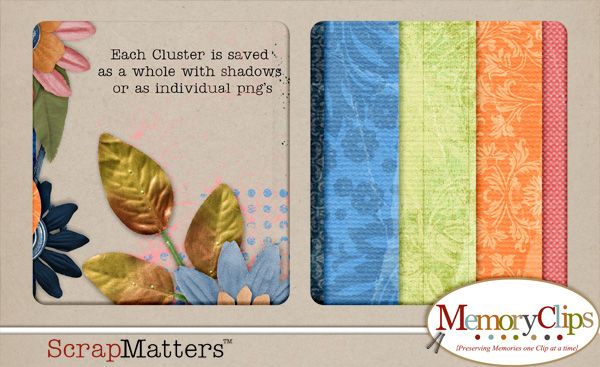 Of course Ramona would love to give one of these away this weekend, so leave your comments below, share this with your Facebook friends or tweet about it. You get one entry into the drawing for a comment, FB post and tweet...3 ways to enter! The drawing closes Thursday evening and the winner announced Friday morning here on the blog.
Finally, I have a little something for you...a cluster to go along with Ramona's release from last week,
Love Blooms
.
Here is a page I made with it, but I added a paper to the opening to make it a journal box :) I also used Ramona's new template...
Blended Memories v1
which you can find at
Brownie Scraps
.
Before I let you go, I'm signed up for another month of creating freebies for you all, but I'm curious to know what kinds of freebies you like to get. Leave your ideas in the comments below and we'll see what I can come up with in June for you!
Happy Scrappin'